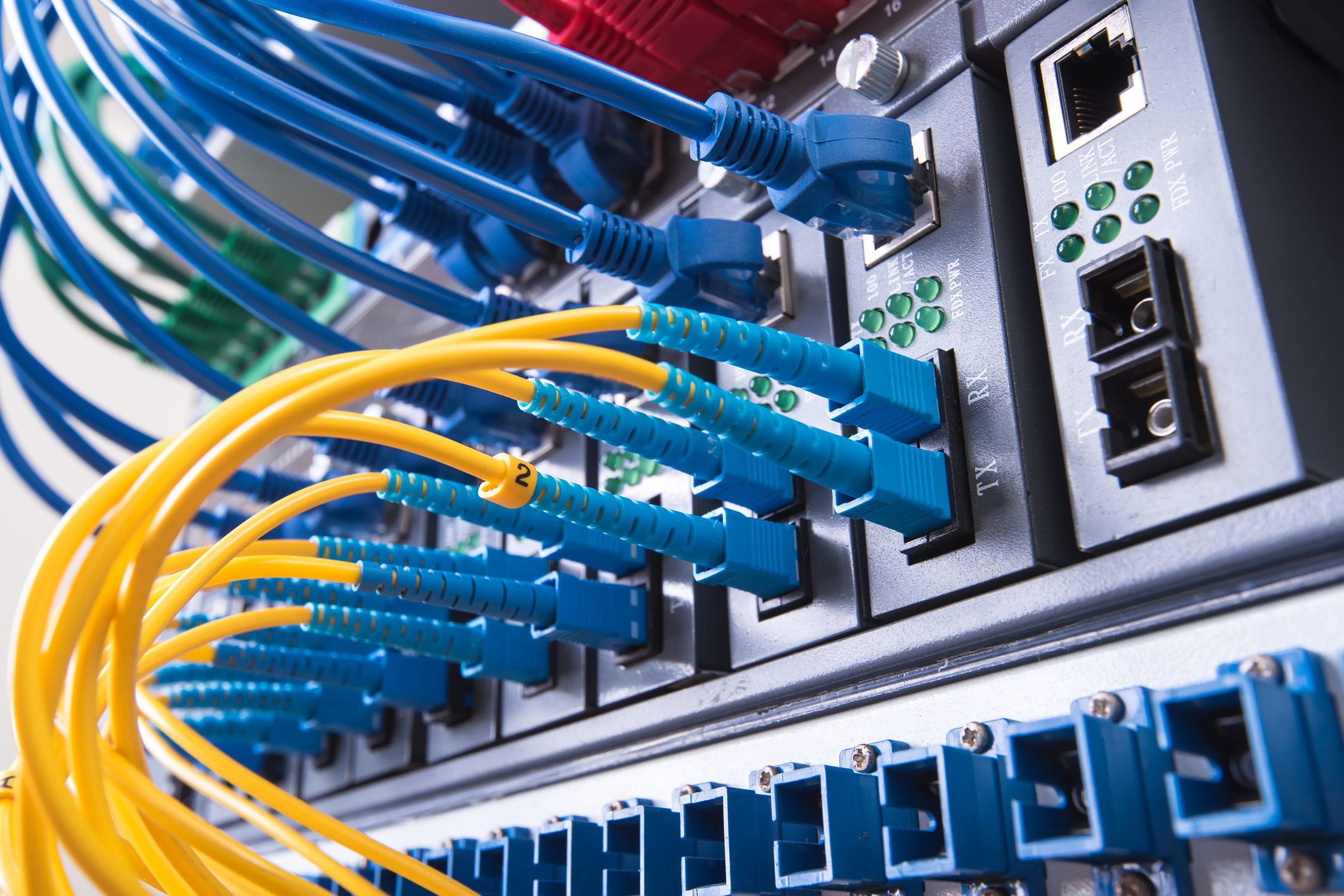 Broadband vs Dedicated Internet Access
Business Broadband vs Dedicated Internet Access (DIA);  What are the differences and why would you consider an upgrade?
The physical medium the service is delivered on, the services level agreement, static IP address availability, and symmetric bandwidth are a few. We will cover these in more detail and explain some of the reasons to upgrade to a DIA from business broadband services.
Physical Access
The physical network access, ie the cabling, is a major difference in many markets. Broadband is often delivered over a coax cable. This cable infrastructure is shared between several businesses or residences in a specific service area. Customer counts vary but in the case of one of our customers, a local technician shared with us that over 200 customers shared that particular cable segment. A shared medium can mean you share problems such as signal interference or network congestion. In contrast, a DIA will come into your building on a dedicated connection. Today this is typically single mode fiber optic cable. Fiber is a strand of glass with a laser signal rather than an electrical one.  This removes electrical interference issues by default. Of course, a traffic accident or a backhoe strike that takes out a pole or digs up a buried cable will disable both services.
Symmetric Bandwidth
One of the greatest drawbacks to some business broadband is the asymmetric bandwidth offerings. For instance, a Docsis 3.1 service might be 1000Mbps of download bandwidth but only 35Mbps of upload speed. Historically this was reasonable for business because file and video consumption were heavily biased to downstream bandwidth. Today, however, with video conferencing, cloud file synchronization, and other upstream hungry applications congestion can certainly be a problem with limited upstream bandwidth. The issues of asymmetric bandwidth are addressed with direct internet access, however, because the services are symmetric. A 1Gbps DIA is 1Gbps in both directions.
Service Level Agreement
Service level agreement differences between broadband and a DIA are significant. A broadband connection will have very few contractual guarantees about the services. In contrast, a DIA may come with guarantees around many parameters as you can see in the list below. If the service performance or availability falls outside of these parameters the contract will contain remedies up to and including the customer's option to terminate the contract. Every SLA is different so be sure to discuss this detail with your Sure Fiber account team before ordering services.
SLA Terms and Parameters
Packet Delivery
This is the guarantee that x% of packets will always be delivered over the circuit broken down even further
Latency
The delay for the data packets to traverse the network is measured in milliseconds (ms)
Jitter
Jitter is the variance in delay for data packet delivery while traversing the networks measured in milliseconds (ms)
Total Packet Delivery
The total number of packets delivered. This is represented as a percentage. Example 99.95%
Class of / Quality of Service
A guarantee around the performance level of traffic classes.
Service Availability
Service availability is a key measurement of how often the circuit is online. The circuit availability is measured as a percentage; For example, 99.95% availability.
Enterprise Features
When moving from a business broadband connection to a DIA several feature options become options with your circuit as well. These are inclusive of custom routing configurations, security, and more.
Let's briefly review the options:
DDoS Mitigation
Denial of Service (DoS) attacks are malicious attacks that overwhelm your circuit, network devices, or servers to cause disruptions to business and ultimately cause harm to your brand and productivity.  Distributed Denial of Service (DDoS) attacks do this with a distributed network of attacking nodes in an attempt to be more difficult to block or mitigate. Most DIA providers also offer an add-on service that includes DDoS mitigation technologies to prevent your organization from becoming a victim of this type of attack. Don't forget to ask about this service when talking to our team about a DIA!
Larger IPv4 / IPv6 Allocations
Business Broadband connections offer both dynamic IPv4 and IPv6 allocations. They are somewhat limited, however. Typically only a few addresses are available. A DIA in contrast can often come with a full 265 IP block of IPv4 address space or more if requested and properly justified. Sure Fiber ensures your IP allocation needs are properly accounted for with a DIA circuit as well!
BGP Peering / Advertisement
Large customers often own IPv4 and IPv6 allocations directly from the internet numbering authorities. This address space can typically be advertised over that DIA! This allows for address portability and customized internet routing policy. Our team can help you evaluate these needs to ensure you get the right features with your service!
Shared Port Multiple Access
If you read our DIA design guide you will recall the discussion of a "loop" and a "port". Each of these components has a cost.
In some cases, a service provider will allow the deployment of multiple customer site loops to connect to a single shared port. This can consolidate costs and save your organization money on DIA services! Not all providers offer this service so be sure to ask our team if this is something that you might be interested in.
Managed Router
IT departments typically have more than enough tasks to tend to so it's often appealing to delegate edge router management back to the service provider. While this comes at a small additional cost it's a great trade-off to buying, securing, and maintaining a router. The provider handles everything end-to-end and even has greater troubleshooting, monitoring, and ticketing capabilities in a centralized customer portal when deploying a managed router.
Advanced Monitoring and Ticketing
Some providers, often with a managed Network Interface Device (NID) or router in place, can offer advanced diagnostics of your circuit visible in an easy-to-use portal. This can also be a great place to validate SLA compliance, review usage metrics, and security posture and even upgrade or order new services.
Ready to Upgrade?
Are you ready to make the Broadband vs. Dedicated Internet Access decision? We can help! Enter your service address and details in the connectivity finder on our home page or contact us here to schedule a connectivity consultation today!